My dogs are not just pets, they're members of the family. So, it's important to keep them warm and stylish, especially during the colder months this time in Texas.
This cute and practical accessory is the perfect way to add a pop of color to your furry friend's wardrobe. Made with soft and comfortable acrylic yarn, the scarf is gentle on your dog's skin and won't irritate or scratch them. You can easily adjust the size to fit your pet by adjusting the number of stitches and the length of the scarf.
In addition to its aesthetic appeal, the scarf is also functional. It keeps your dog warm and cozy, especially on those chilly walks and outdoor playtime. The scarf can also be used to cover the collar, providing extra warmth and comfort to your pet's neck.
Another great feature of the Green Crochet Pet Collar Scarf is that it's easy to care for. Simply machine washes it on a gentle cycle and lay it flat to dry. No need to worry about shrinkage or fading.
In conclusion, the Green Crochet Pet Collar Scarf is the perfect addition to your pet's wardrobe. It's fashionable, functional, and easy to care for. So, keep your furry friend warm and stylish this winter season with the Green Crochet Pet Collar Scarf.
MATERIALS:
I use 100% Acrylic yarn in green apples, Kale, Cream, and green apples.
Use a 5mm Crochet Hook
Scissor
Tapestry Needle
Stitch Marker (Recommended)
ABBREVIATIONS:
CH = Chain(s)
DC = Double crochet
FPDC = Front Post Double Crochet, Yoh and draw up a loop around the post of the next stitch at the front of work, inserting the hook from right to left. (Yoh and draw through 2 loops on hook) twice.
HDC = Half double crochet
MOHDC = Modify Half double crochet
DCBP = Back Post-Double Crochet, Yoh and draw up a loop around the post of the next stitch at the back of work, inserting the hook from right to left. Yoh and draw through all loops on the hook.
DTR2tog = Double Treble Cluster in the Same Stitch/Space
DTR3tog =
DTR4tog =
Pat = Pattern
Rep = Repeat
RS = Right side
Sc = Single crochet
St(s) = Stitch(es)
SLST = Slip Stitch
SK = Skip
Tog = Together
WS = Wrong side
Yoh = Yarn over hook
NOTE:
Collar Size: 15~25cm (6-10″), 25~35cm(10-14″), 35~45cm (14-18″)
Width:
Length:
Reference from Laia Crochet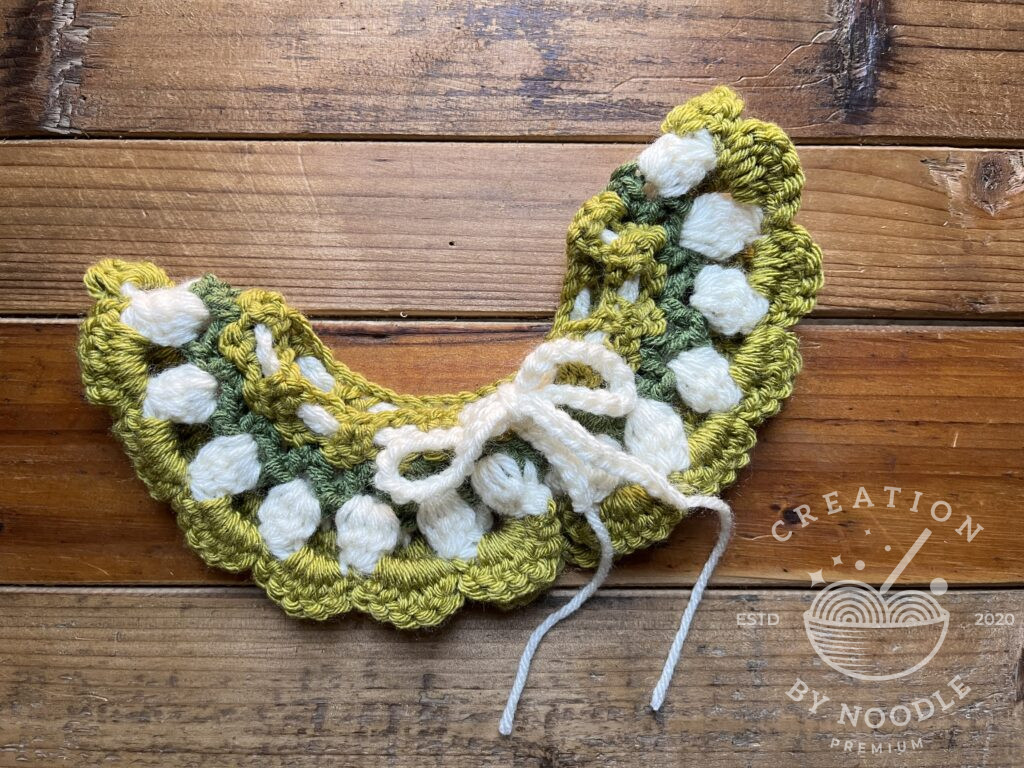 INSTRUCTIONS:
Rnd 1: In green apples, CH 52 or reach 35cm (14″) long. (52)
Rnd 2: CH 2x, DC 52x. (52)
Rnd 3: In kale, CH 2x, {[DC, SC 2x, DC] Tog, SK} until the end.
Rnd 4: In Cream, CH 3x, [DC4tog, CH 4x] until the end.
Rnd 5: In green apples, CH 4x, [DC5tog, SC ] until the end, fasten off and weave in the end.
Rnd 6: In Cream, (String) Ch 30x, Ch 50x, Ch 30x, both end leave a short tail,
Rnd 7: Assemble the scarf by weaving in the collar